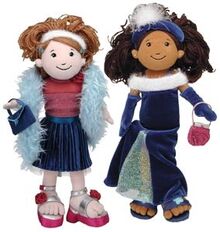 Fashion Blizzard is a Limited Edition Fun Pack from 2002. It includes two dolls named Kali and Krista.
Description
Edit
Kali and Krista are dressed to impress. They love looking fab and fancy, and the best part is that they're the same size in clothes, so they can swap outfits and accesories for twice the fun! These girls are ready for any Winter party!
Appearance
Edit
Kali is African-American with straight, long, loose black hair. She comes in a blue headband with a white pom-Pom, as well as a fancy navy velvet dress with a white fur trim. She also has removable navy gloves and navy sandals. Her feet feature detailed toes. She also comes toting a pink purse.
Krista is Caucasian with curly, red hair in an updo. She has a sparkly white headband. She also wears a short-sleeved pink top and a blue feather boa. Her skirt is navy, velvet, and pleated. Krista's removable sandals are silver with roses on them, and she also carries a navy purse. Her feet also feature detailed toes.
Name Meaning
Edit
Kali is Sanskrit for "The Black One" or a form of the English Callie meaning "warrior" or "lark."
Krista is Latin and means "Christian," as in the religion.
The soles of Kali's feet are the same color as the rest of her skin, which is unrealistic.

A 2005 doll named Kassi would have the same issue as Kali.
Community content is available under
CC-BY-SA
unless otherwise noted.